Peter's short fiction and poetry have appeared in Best Canadian Poetry, Asimov's Science Fiction, Strange Horizons, The New Quarterly, Grain, PRISM, and more, and his work was selected for Imaginarium: Best Canadian Speculative Writing three years in a row. His poetry was also featured in the game FRACTER, now available on Steam and Nintendo Switch.
His new book of microfiction The House of Untold Stories is forthcoming from Andrews-McMeel Publishing on August 31, 2021.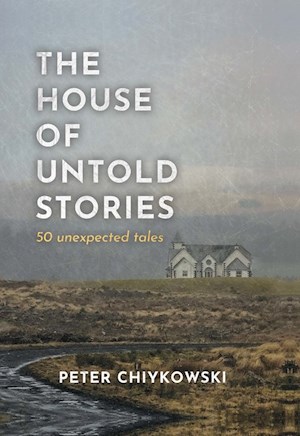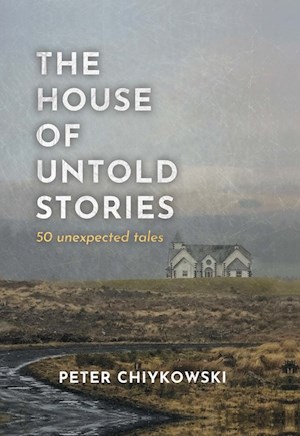 His microfiction project, The Shortest Story, features weekly short stories sent as postcards from strange worlds that parallel our own, which has gone viral on Imgur and Tumblr numerous times.
He is available for creative writing projects at p.chiykowski (at) gmail.com.
Select fiction and poetry publications include:
"A Red Harvest" for the EMBERWIND lore story archive (2019)
"Ours to Ask" for the EMBERWIND lore story archive (2019)
"The Long Way Home" for the EMBERWIND lore story archive (2019)
"The Stein Lord" for the EMBERWIND lore story archive (as co-writer) (2018)
"The Rootbloom" for the EMBERWIND lore story archive (2018)
"Pillar of Strength: Rise of the Atlanta" for the EMBERWIND lore story archive (2018)
"Tumblespine" for the EMBERWIND lore story archive (2018)
"To the New Chronologue" for the EMBERWIND lore story archive (2018)
Postcards From Impossible Worlds: The Collected Shortest Story,  ChiZine Publications (2018)
"Notes from the Canary Islands" in The Best of the Best Canadian Poetry in English: Tenth Anniversary Edition, Tightrope Books (2017)
"Half-Cat" in Gods, Memes and Monsters, Stone Skin Press (2016)
"A Spell for Rebuilding Your Lover Out of Snow" in Imaginarium 4: The Best Canadian Speculative Writing, ChiZine Publications (2015)
"Turing Tests" and "A Charm for Communing with Dead Pets During Surgery" in Imaginarium 3: The Best Canadian Speculative Writing
"A Spell for Rebuilding Your Lover Out of Snow" in Strange Horizons (February 2014)
"A Charm for Communing with Dead Pets During Surgery" and "Incommunicable Diseases" in Hamilton Arts and Letters 6.1 and 6.2
"Turing Tests" and "Three Charms for Recovering Lost Data" in Asimov's Science Fiction (July 2013 and August 2013)
"The Silence of Cicadas" in Spillway Poetry Magazine #20 (June 2013)
"A Spell for Scrying Mirror Gremlins" in Imaginarium 2013: The Best Canadian Speculative Writing
"Loving an Old Dog", League of Canadian Poets', National Poetry Month Blog (April 2013)
"The Mouths of Oracles" and "Three Charms for Protection from your Horoscope" in The New Quarterly #126
Half-Cat: A Partial History, The Writing Reflex (2013)
"Cooking for the Dead" and "A Spell for Scrying Mirror Gremlins" in The Chiaroscuro
"Breathing Bones" and "The Cinder Girl" reprinted in Imaginarium 2012: The Best Canadian Speculative Writing
"Notes from the Canary Island" reprinted in Best Canadian Poetry in English (2011)
"The Cinder Girl" in In the Garden of the Crow
"Fossil Record"  in PRISM #50.1
"Shine" in The New Quarterly #118
"Transverse Love" in On Spec #84
"Then Cried Arthur" in Fantastique Unfettered #2
"Breathing Bones" in Basement Stories
"Notes from the Canary Islands," "From the Tarmac Above the Ash Cloud," "Of Fences" and "Beyond Summerside" in Grain #37.4